Thameslink contract faces National Audit Office probe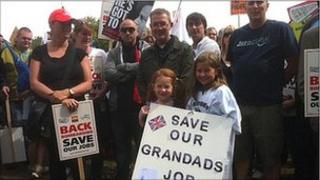 An inquiry into a government contract for railway carriages has been given a cautious welcome by an MP.
The National Audit Office (NAO) said it would look at the deal for Thameslink carriages to see if it needed a full Value for Money review.
Derby-based train maker Bombardier said it would have to shed 1,400 jobs after the £1.4bn government contract was given to rival bidder Siemens.
Erewash MP Jessica Lee said the NAO inquiry was optimistic sign.
Bombardier confirmed it was looking to cut nearly half its Derby workforce just days after the government named German engineering giant Siemens as preferred bidder for Thameslink in June.
Decision in October
The government has consistently said it cannot alter the terms of its procurement process.
A 50,000 name petition and march through Derby are among the protests held over the decision.
Ms Lee was one of four Derbyshire MPs who had asked the National Audit Office to look into the situation.
It has now confirmed it will start "some investigation work" to examine whether the Siemens bid offers value for money.
A decision on a full review should be taken in October.
A spokesman from the NAO said: "If we decide a review should take place, we will make recommendations to the Public Accounts Committee who would, in turn, make recommendations to the government.
"We have no powers, nor should we have, to overturn a decision made by the government."
Ms Lee said: "It is right to have a dose of reality now. We may not be able to change or stop this decision in the long run, that's the truth.
"However, that does not mean we will not try every nook and cranny and every avenue we can.
"This is a good step and it is a shame it can't report until October, but if they turned round to say 'we can let you know in a couple of days' I would be concerned they hadn't done a thorough job."