Bakewell church's bell party for Ringing World centenary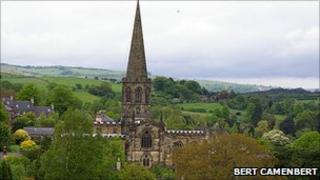 Bells will be rung continuously for 100 minutes at a church in Derbyshire to mark the centenary of a campanology magazine.
All Saints Church, in Bakewell, has enlisted 100 volunteers from churches around the county to celebrate a century of The Ringing World.
The event, which starts at 14:30 BST on Sunday, will see them working in relay to operate the church's eight bells.
Event organiser Pauline Boyle said she hoped people would come to watch.
The volunteers, who are all experienced ringers, have come from churches across the county including Belper, Matlock, Ashford, Bamford and Brackenfield.
'Ideal venue'
There will also be ringers from Derby Cathedral and the city's St Peter's Church.
Ms Boyle said: "Our church was an ideal venue because it has a nice big ringing chamber, which can fit up to 50 people.
"My part is about seven-and-a-half minutes long. Hopefully people listening outside won't be able to hear any gaps during the change overs."
Based in Hampshire, The Ringing World is a 24-page weekly journal written "by ringers for ringers".
As well as the Bakewell event, a service and handbell concert are taking place at Westminster Abbey to mark the magazine's centenary.