Derby County players to wear T-shirts for Bombardier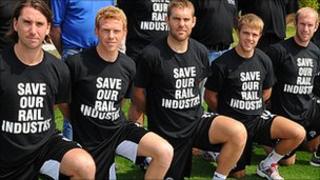 Derby County players are to wear T-shirts in support of train maker Bombardier during their first match of the new football season this weekend.
The club has given its backing to the firm, which is to shed 1,400 jobs in Derby after it lost out to Siemens for the £1.4bn Thameslink contract.
Players will wear the T-shirts during the warm-up and Bombardier workers will carry a large banner on to the pitch.
The government said the Siemens bid offered tax-payers better value.
A Derby County spokesman said the T-shirts, which bear the slogan "Save our rail industry" will show its support for unions and groups campaigning to convince the government to reverse its decision.
John Nagle, head of communications at the Football League, said the show of support did not contravene any league rules.
'Thousands affected'
Manager Nigel Clough said: "There is no underestimating the impact this will have on our community.
"It is quite simply one of the biggest issues ever to affect this area and I speak as someone who has lived here for over 40 years.
"Thousands of families in Derby will be affected and it will touch all generations, not just the father or mother who works in the rail industry to support their family but also the teenagers and young adults studying manufacturing."
Children of Bombardier workers will be mascots at the match, against Birmingham City at Pride Park stadium on Saturday.
"It's about people's jobs, people's lives and a community that would be left devastated if something isn't done to reverse or correct this decision," said Clough.
"The contract with Siemens won't be signed until the end of the year so there is still time for ministers to look again."
Bombardier, which sponsored the club's shirts in 2008/09, said it welcomed Derby's support.
The National Union of Rail, Maritime and Transport Workers (RMT) and Unite also praised the club for joining the campaign.
Earlier this week, it was reported the government had spent about £15m on private consultants as part of the Thameslink train deal.