Poet Ann Atkinson mimics Tony Parsons' airport residency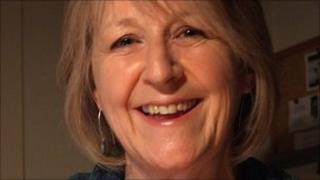 Derbyshire's poet laureate is to spend a morning writing poetry at East Midlands Airport in homage to Tony Parsons' Heathrow "residency".
Ann Atkinson, from Grindleford, will base herself in the airport's departure hall to mimic the author's week of writing at the London airport.
Like Parsons, Ms Atkinson plans to spend Friday morning using passengers as inspiration for her writing.
She then plans to read out her finished poem on BBC Radio Derby.
Ms Atkinson, who was appointed the county's Poet Laureate in 2009, said she was interested to see what comes out of the mini-residency.
"Airports, despite running to a tight schedule, seem to have a sense of timelessness," she said.
'Colour and mood'
"People queue with a blank patience you'd not find anywhere else.
"It will be interesting to stand back and observe this, listen to a few stories, eavesdrop on conversations, and capture the colour and mood and variousness of it all.
"And I'm doing it in just two hours - Tony Parsons needed a week."
Since she became county laureate, Ms Atkinson's commissions have included poems about a new office block in South Normanton and the achievements of Arnold Warren, a former cricketer from Blackwell.
However, her mini-residency at East Midlands Airport is just for fun rather than an official council commission.
Tony Parsons is the second writer to take up a residency at Heathrow Airport.
Philosopher and author Alain de Botton wrote part of his book, A Week at the Airport: A Heathrow Diary, from a desk in Terminal 5, in 2009.