Chesterfield hospital loses thousands in car park fees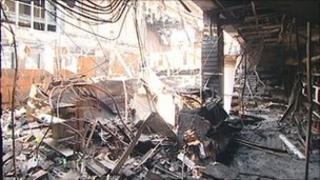 Managers at Chesterfield Royal Hospital say they are losing about £40,000 a month after a fire knocked out the electronic car park barriers.
Parts of the hospital were severely damaged by the fire which started in a fridge in the on-site newsagents after an electrical fault on 25 June.
The electronic systems were knocked out and since the fire, visitors have been able to park for free.
A hospital spokeswoman said they were working to restore the systems.
"Our car parking income is about £500,000 a year," said Sarah Turner-Saint.
'Substantial amount'
"The fire also knocked out the car park barriers so we have had no income from car parking since the fire.
"You're looking at a substantial amount of money and the loss adjustors are on site on a daily basis," she said.
No-one was injured in the blaze but it will take up to six months and cost "millions of pounds" to repair the badly-damaged front entrance.
Ten fire engines were sent to the scene and it took about 60 firefighters several hours to put out the blaze.