Bombardier workers told by union 'keep fighting'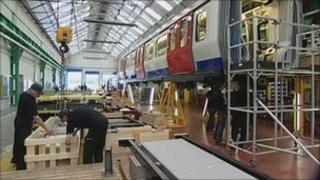 Union bosses will urge staff at Derby train maker Bombardier to keep fighting for jobs at a meeting later.
Tony Woodley, executive officer of union Unite, is to address workers at the firm's Litchurch Lane factory.
About 1,400 jobs are under threat after the company lost out to Siemens as the government's preferred bidder for the £1.4bn Thameslink contract.
The Department for Transport said the Siemens bid offered taxpayers better value for money.
Len McCluskey, general secretary of Unite, is meeting senior managers from Bombardier in London to discuss the tendering process.
Mr Woodley said the union was determined to keep the campaign's momentum up as it pressed for a meeting with Transport Secretary Phillip Hammond and the prime minister.
"I'll be telling staff to keep their heads up and to not think this is a done deal," he said.
"We need to keep the pressure on the government. It's politics that has taken this bad decision and it's politics that will turn it around."
City centre march
More than 50,000 people signed a petition organised by Chris Williamson, Labour MP for Derby North, urging the government to change its decision.
The matter will be considered by the Transport Select Committee on 7 September.
More than 6,000 people marched through the centre of Derby in support of Bombardier on 23 July and last weekend Derby County players wore T-shirts backing the campaign.
The deal is also due to be reviewed by the National Audit Office (NAO).
Mr Woodley said he was still optimistic public pressure could convince the government to reverse its decision.
"We need our government to be as brave the American government was a couple of years ago," he said.
"A massive contract was to be awarded to BAE and they stepped in, said it wasn't in their national interest, and it went to Lockheed instead.
"It's about time the British Government did the right thing for British manufacturing."