Two arrested in Derby after cars damaged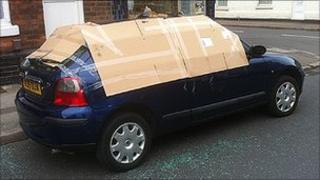 More than 20 cars and a shop were damaged in a series of disturbances overnight in Derby.
Incidents were reported in Campbell Street, Allenton, and Brighton Road, Alvaston, after 23:00 BST.
Two 15-year-old youths were arrested in connection with the attacks, police said.
In a separate incident, a window was broken at Bon Marche in St Peter's Street in the city centre at 01:00 BST and a 30-year-old man was arrested.
A number of vehicles were also damaged in the Village Street area of Normanton.
'Yobbish violence'
Problems were also reported near to Moorways Sports Centre in Allenton where a car was damaged.
Assistant Chief Constable Dee Collins said: "There were a number of incidents overnight mainly around Allenton and Alvaston in Derby, involving a single group of youths involved in crime and anti-social behaviour.
"Officers tracked this group throughout the area and so far two arrests have been made in connection with the incident and I expect more to follow.
"While it is disappointing, if you take the incident out of the context of current events, it is the sort of thing we have to deal with every day in the county and compared to other areas it has been relatively low-key."
Alasdair Kay, who lives in Allenton and works as a street pastor, said: "People who live in the community are absolutely sick of yobbish violence.
"Quite frankly, we are looking to Derbyshire Constabulary to start policing those communities much more robustly and we are wanting laws to be passed so that people like that can be removed from those communities."
Police also emphasised that despite a number of rumours there was no disorder or in other areas of the county.
A high-visibility police presence will remain in key areas, officers added.