Jerusalem: The city that saved an author's life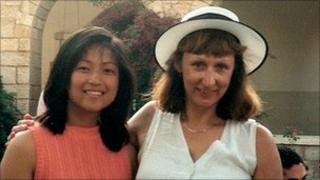 When a failed marriage bred thoughts of suicide, Sylvia Corsham turned to prayer.
Cue the offer of a job in Jerusalem, as a teacher at the International School there, miles from her Derby roots.
It led her to experience life in a crucible where normality meant accommodating centuries of historical and religious conflict.
Her take on it is clear from the title she chose for her book about those years: "For The Love of A City".
Ms Corsham said she witnessed bombing and riots as she found herself in a city divided by the conflict between Palestine and Israel.
"It was a spiritual battle being worked out on the ground, wreaking havoc in the lives of ordinary people," she said.
The International school itself had students from 60 countries on its books: students whose parents were engaged in every occupation from the diplomatic service to the media.
They were a gateway into the complex layers of Jerusalem society, but also "to me these were teenagers with normal teenage anxieties and hormones... the school became a sort of anchor, and students there bonded with each other, which was a testament to what it is possible to achieve in the nature versus nurture debate".
Evidently the place impressed her as deeply as its people. "For The Love of A City" is a narrative interspersed with letters to family and friends which try to convey the landscape as well as chronicle relationships.
"In Israel I always felt as if I wished there had been a camera somewhere behind my eye...but then it wouldn't have captured the sounds or the scents of the place."
Growing up on the outskirts of Derby in post-war austerity, Sylvia only achieved her ambition to go to university as a mature student, as a young mother of 32.
She is likewise a latter-day author: this is her first book.
While she went out to Jerusalem in 1996, she records that by the summer of 1998 "I was no longer the sad and despairing individual that left England".
Her conclusion is one of hope: hope and a belief in a future for both the city and herself.