Ecclesbourne Valley Railway attacked over hedge removal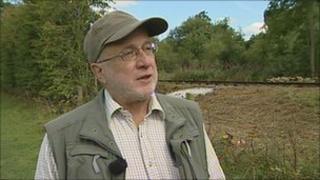 A group of rail enthusiasts has been accused of "countryside vandalism" after removing a section of hedge from the side of a track it helped restore.
Amber Valley Borough Council is investigating whether the hedge, in Hazelwood, was illegally removed by the Ecclesbourne Valley Railway.
The rail group said the hawthorne was taken out on health and safety grounds.
Derrick Hale, from the National Hedge Laying Society, said other options should have been considered.
"It's a fine hawthorne hedge but now it's gone," he said.
"It's been sawn off very roughly at different heights and it's the wrong time of year for the plant to survive.
"It's countryside vandalism basically. It's a very healthy hedge and there were other management options available for it which would have maintained the integrity of the hedge."
Protected by law
A team of volunteers spent nine years restoring the 8.5m (13.6km) line from Wirksworth to Duffield which had been disconnected from the national rail network for 60 years.
The track was officially re-opened in April and services now run at weekends.
Hedges in England and Wales are protected by law under the 1997 Hedgerows Regulation but the rail group said it had no choice but to remove this section.
Volunteer Pat Craft said: "We needed to shear off the sides of the hedges so that there was a good sight line from the the footpath and farm crossing and people could see the train coming."
Mrs Craft said the group had already replaced several hedges along the line.
If the council decides the hedge was removed illegally, it could force the group to replace it or face prosecution.