Chief whip heckled at Bombardier conference in Derby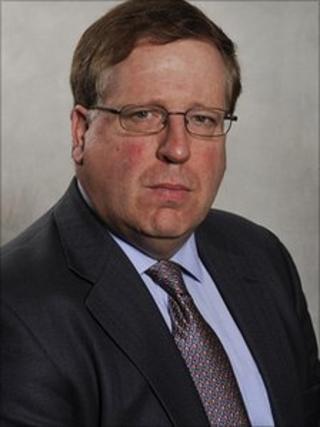 Government chief whip Patrick McLoughlin was heckled by business leaders at a meeting to discuss the future of Derby train maker Bombardier.
The Derbyshire Dales MP was greeted by shouts of "outrageous" after he defended the government's decision not to award the company a £1.4bn contract.
The firm is cutting 1,400 jobs and reviewing its UK operations after losing out to rivals Siemens.
Politicians and business leaders attended the summit at Derby College.
Speaking about the Thameslink decision, Mr McLoughlin said: "These decisions were not taken lightly. I'll do all I can to help the Chamber of Commerce. But we must be realistic."
After being heckled he said: "The easiest thing for me was not to come here."
'Crucial to economy'
William Barron, from Derby company Creating Insight, said: "Patrick is working for the government, he's not working for his constituents.
"The government seems to be hiding behind the picture created by Whitehall which does not understand how crucial manufacturing is to the UK economy."
Among those attending were Bombardier chairman Colin Walton and George Cowcher, chief executive of the Derbyshire and Nottinghamshire Chamber of Commerce.
Chris Williamson, Labour MP for Derby North, organised a 50,000-signature petition calling for the government to change its decision.
He said: "I heard what Patrick's said and I'm glad he was here. He was in a very difficult position."
As well as talking through ideas to help convince Bombardier to stay in Derby, the conference discussed ways of finding work for the 1,400 workers set to lose their jobs.
The delegates also talked about how they could best support other local companies which rely on business from Bombardier.
Unions, including RMT and Unite, still hope to convince the government to reverse its decision and the deal is also due to be reviewed by the National Audit Office (NAO).