Derby Quad project turns sounds of the city into music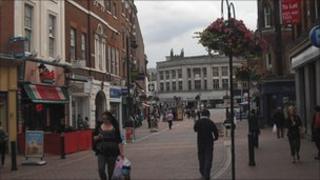 People in Derby are being asked to capture sounds of the city - so they can be turned into music.
Quad arts centre has launched SoundTrack Derby, a project which invites participants to record noises and upload them to a website.
Once enough sounds have been collected, people can use the website to mix them together and create their own music tracks from scratch.
Organiser Sophie Powell said the noises could come from anywhere.
"You could record the sounds of your home, your office or workplace. You could even record your journey to work.
"What we're trying to do with this project is inspire people to become composers."
Most popular
People can use mobile phones or recording equipment to gather their sounds and visitors to SoundTrack Derby will be invited to vote for their favourite tracks.
Quad is running a series of workshops in October to help prospective composers put their compositions together.
Two evening events are also being planned which will allow people to borrow digital recorders to record sounds in a group.
The project follows Quad's 2010 mass participation project, Shoot Derby, which encouraged people to take photos around the city.
Ms Powell said: "We're working hard to try to make this project global by using social media sites so hopefully it should be great."