Suspect vodka: Nine hundred bottles seized in Derby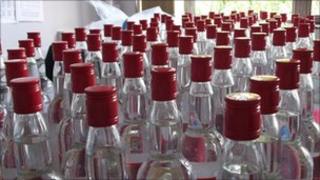 Trading standards officers seized 900 bottles of suspect vodka and 150 packs of counterfeit tobacco in two sting operations on the same day in Derby.
The vodka, which had an estimated street value of £7,000, is now being tested for chemicals.
Officers said the vodka and tobacco could have caused serious harm.
Bottles of fake vodka seized in Derby in July were found to contain isopropyl, a chemical used as a cleaning fluid.
Derby City Council has asked the public to be vigilant and report any alcohol or tobacco it suspects of being fake.
The seized vodka bottles had red tops and labels.
Ivan Thompson, from trading standards, said: "People could buy this, think they are getting a bargain, and then suffer the consequences."
A month ago five men died in an explosion at an industrial unit being used to illegally brew alcohol in Boston, Lincolnshire.
Since then, police there have vowed to clamp down on the illegal trade.