'Yellow' Brian Clough statue at Pride Park is repaired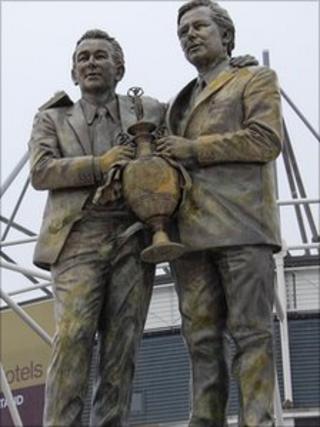 A statue of former Derby County manager Brian Clough and his assistant Peter Taylor has been repaired after shocked fans saw it turn yellow.
The bronze monument, which was unveiled outside Derby's Pride Park stadium last August, gradually changed colour over several months.
The statue's sculptor Andrew Edwards, said the change was very unusual and had taken everyone by surprise.
Metal specialists have now helped return the statue to its intended tone.
Mr Edwards said: "It wasn't just a little yellow - it was sunshine yellow.
"Bronze has a large copper content and naturally changes as it ages. Normally it goes darker or green, and occasionally it can have red spots.
"But I've never known a statue go yellow before."
'Unconventional characters'
Mr Edwards said specialist metallurgists and chemists who visited the statue were just as astonished as he was.
"The monument seems to have a life of its own - as befits the two characters in some ways," he said.
"It's unconventional to say the least."
The artist said it was possible the statue had been affected by some kind of alkaline reaction connected to the atmosphere and the pale finish given to the bronze when it was first built.
He said: "I was a little sad if anyone thought it could have been defaced or if it was something intentional.
"I'm just glad it's being remedied now."
Clough, who died in 2004 and Taylor, who died in 1990, led Derby County to the football league championship in 1972.