PM David Cameron rules out Bombardier rethink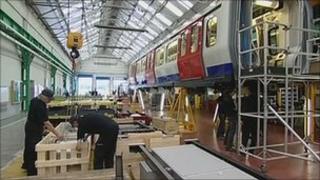 Prime Minister David Cameron has personally ruled out any rethink of the £1.4bn Thameslink deal which Derby-based Bombardier lost to a German firm.
The Derby trainmaker is planning to cut almost half its 3,000 workforce after missing out on the contract.
Bosses, unions and local politicians have called on the government to reconsider its decision.
Mr Cameron said in a letter the deal was awarded in accordance with EU rules and he could not justify stopping it.
His letter was written in reply to Derby MP Chris Williamson.
Mr Williamson, Labour MP for Derby North, organised a 50,000-signature petition calling for the government to change its decision.
Future procurements
The prime minister wrote: "This would cause very substantial delays to the programme and moreover, would not help Bombardier, which even if it were successful at re-tender, would still not have the new work for several more years."
Critics of the government believe France and Germany keep big rail contracts within their own borders because they take into account the social impact of sending work abroad.
Mr Cameron appeared to hint that might be Britain's approach in the future.
"I have asked departments to look at the degree to which, for future procurements, the government can set out the requirements and evaluation criteria with a sharper focus on the UK's strategic interest", the prime minister wrote.
Mr Williamson said: "It's just a question of political will, this is an absolutely vital decision.
"Bombardier only has enough work from the autumn for about 300 people.
"It's a multinational corporation and the likelihood is, unless the government reverses this decision, they will pull out of the UK and that will spell the end of the line for the British train manufacturing industry."