Derby Downing Road waste plant a 'white elephant'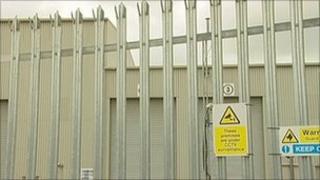 Campaigners say that an £830,000 waste plant in Derby which has not been used since its completion a year ago is in danger of becoming a "white elephant".
The Downing Road plant was built in a deal between Derby City and Derbyshire County Councils and waste provider Resource Recovery Solutions (RRS).
But due to "operational difficulties" the plant has never been used.
Opposition Labour Councillor Paul Bayliss said something needed to be done with the site quickly.
"It's a massive waste of public money and a big white elephant," said Mr Bayliss.
"They've either got to dispose of it, sell it or something. We need to put the money back into the public purse."
'Extra savings'
In April 2010, Resource Recovery Solutions (RRS) took over the city and county councils' contracts for waste disposal from the Waste Recycling Group (WRG).
The councils had applied for planning permission for an incinerator in Derby with the Downing Road plant built as an interim solution to deal with waste that could not be recycled or composted.
Planning permission was turned down and waste is being processed by a site owned by WRG.
In a joint statement from the city and county councils, a spokeswoman said: "There are operational difficulties with the Downing Road site and alternative uses for it are being sought which will hopefully offset much of the original investment in building the site and provide extra savings for the councils.
"RRS is continuing to use WRG's facility at no further cost to either council.
"The potential savings of this arrangement together with other savings RRS has made outweigh the costs of the Downing Road site. There is no additional cost to council taxpayers."