Week-long clean-up operation targets A38 in Derbyshire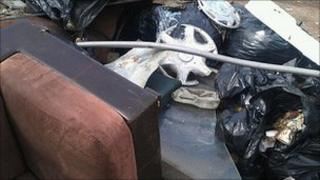 A child's slide, a toilet and a sofa were among items found by the side of the road during a week-long clear-up of the A38 in Derbyshire.
Council staff filled more than 400 bags of rubbish during the operation between Little Eaton and Alfreton.
The clean-up was organised by Amber Valley Borough Council after drivers complained about the state of the road.
The authority said the work, arranged with the Highways Agency, had prevented lane closures.
Jack Brown, cabinet member for green and thriving places to live portfolio, said it was the biggest operation of its kind the council had ever carried out.
He said: "The pictures of the rubbish cleared are truly shocking and it highlights the scale of the problem we appear to have in terms of litter being dropped on the highways.
"It is also a despicable habit and an offence.
"I would urge anyone to report those who you see dropping litter from their vehicles and please keep litter in your vehicle."