Supermarkets 'could deprive Derby city centre of £50m in trade'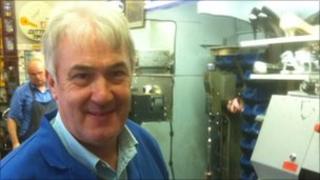 Supermarkets could take £50m away from city centre businesses in Derby, the city council has said.
Planning permission has been granted for three new supermarkets in the Derby area and two more are yet to be considered.
Traders at the city's Eagle Market have said they are worried about the impact the supermarkets will have on their business.
The city council said it was looking at ways to rejuvenate Derby's markets.
'Empty stalls'
Pete Ramsden, who has run a key-cutting and shoe repair service on Eagle Market for 35 years, said: "We felt the impact from day one when the supermarkets first hit the city 20 something years ago, the decline [in markets] started then.
"We've got a lot of empty stalls. It's not just the market traders, a lot of the city centre businesses will suffer."
Planning permission has already been granted for supermarkets in Allenton, Chaddesden and the city centre.
Proposals for a further two supermarkets just outside the city centre are to be considered by the city council shortly.
In a planning report, city council officers said there was a "potential minimum trade diversion from city centre of £35m per annum, although this could be between £40m and £50m".
A city council spokesperson said: "To assist traders to develop their businesses the council is offering deals for existing market tenants taking on additional stalls and, for new traders, a 'be your own boss' scheme offering significantly discounted rents for new-start businesses.
"The council is also actively encouraging tenants to take advantage of wider benefits available to them such as Small Business Rates Relief."
A Tesco spokesperson said the firm was helping to redevelop the existing market in Allenton as part of plans to build a new store there.
He said: "Building a new supermarket encourages people to come to the area and to stay in that area and go to other shops.
"We think we'll be of great benefit to Derby and be part of its economic growth."