Chesterfield Royal Hospital fire repairs to cost £1.8m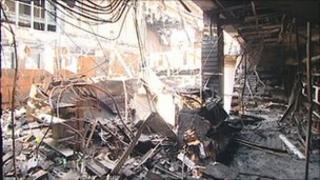 Damage caused by a Derbyshire hospital fire is expected to cost £1.8m to repair, a spokesman has said.
Chesterfield Royal Hospital's main entrance was severely damaged after an electrical fault on 25 June.
Work to repair the damage has been put out to tender and the hospital said it hoped everything would be completed by April 2012.
Temporary check-in procedures and facilities are in operation until work is finished.
The fire started in a fridge in the on-site newsagents.
The accident and emergency department was evacuated and 10 fire engines were sent to the scene.
It took about 60 firefighters several hours to put out the blaze.