Derbyshire band The Rash transformed into sixties stars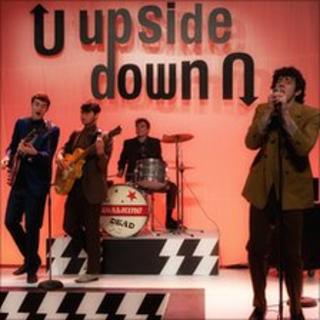 An unsigned band from Derbyshire have been transformed into a chart-topping sixties group for a BBC TV drama.
The Rash, from Ashbourne, play fictional band The Walking Dead in a new feature-length episode of Inspector George Gently.
The four-piece were approached after the show's music supervisor spotted them on a website for unsigned bands.
They recorded three new tracks and spent a day in Newcastle recording a fictional TV performance for the show.
Guitarist Bobble Eccles said: "It was an amazing experience. We had to pretend to be on a made-up TV show called Upside Down with lots of screaming fans.
"Being fitted into our sixties costumes and having our hair and make-up done was good fun."
Played on Hollyoaks
The indie folk band, who count Simon and Garfunkel, Beach Boys and Fleet Foxes as influences, formed four years ago at sixth form.
For their appearance on Inspector George Gently, they were asked to prepare three new sixties-style pop songs.
The group then spent two days at a London studio recording the new tracks, Suzanne, Beating Heart and Got To Live On, which plays over the end credits.
Mr Eccles said: "It was quite a lot of pressure but we just got our heads down and worked hard to put something together."
It's not the band's first taste of television, they have also had their music played on Channel 4 series Hollyoaks.
Pete Saville, music supervisor on Inspector George Gently, said: "They are a very tight band, write amazing songs and their work ethic and attitude is superb."
The group said they were open to offers for more television work but have no plans to make The Walking Dead their permanent name.
The episode will be shown on BBC One on 4 September.