Derby museum trust scheme could be extended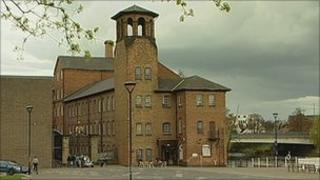 A plan to have Derby's museums run by a charitable trust could be expanded to other parts of the cultural sector.
The city council believes this would make Derby Museum, the Silk Mill, and the Joseph Wright Museum easier to fund and more flexible to run.
The Silk Mill has closed for two years in an attempt to save £400,000.
A report has suggested the plan should be approved and added a similar move for the libraries, arts venues and leisure centres could be considered.
Officers have told the council's cabinet the move would allow the museums "to make quick decisions to maximise funding and partnership opportunities" as well as "take a more entrepreneurial, commercial approach to service and financial improvement".
Funding deadline
They add this method of management could be suitable for more elements of the arts and leisure service, such as parks and libraries, which are currently under direct council control.
A council spokesman said while the authority would still provide core funding and have a presence on any trust's board, the new system would allow the attractions to be used to best effect.
Any transfer must take place by April 2012 to guarantee £286,000 of funding provided by the Museums, Archives and Libraries Council to manage the changes.
The matter will be discussed by the council's cabinet on 6 September.