Chesterfield town centre troublemakers targeted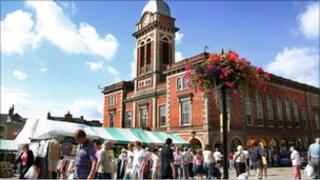 An order which makes it easier for police to disperse troublemakers in the centre of Chesterfield, in Derbyshire, has been extended.
Officers were granted a dispersal order in July giving them more power to tackle groups causing problems near the town's Market Place and library.
Now the scheme is being extended to the whole of Chesterfield town centre after groups moved to the Crooked Spire area.
Police said the order had led to fewer complaints about anti-social behaviour.
Sgt Les Rawson said: "The dispersal order is having a positive effect in the area around the entrance to the library, McDonald's and Low Pavement shopping centre.
"However some of the behaviour has been displaced and we don't want that to happen - we want to stamp it out altogether.
"We hope by extending the order to cover the rest of the town centre we will be able to do that."
If groups asked to move fail to do so they may be arrested and face fines of up to £2,500.
Posters detailing the extension, which runs from 1 September to 31 December, are being placed around Chesterfield.