Derby Hospitals Trust holds £6.4m in charity donations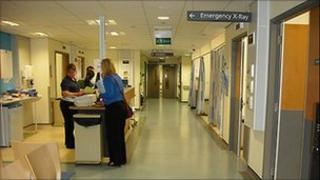 Derby Hospitals NHS Trust has £6.4m of charitable donations resting in its accounts, it has revealed.
Bosses said the money, donated by the public and left in wills, would be spent "at the right time".
Finance director Lee Outhwaite said the organisation aimed to ensure charity money was only spent on the specific area it was intended for.
He said in the financial year 2009/10 the hospital had received £1.8m in donations and spent £1.9m.
The money was spent on extra facilities at the Royal Derby Hospital and the London Road Community Hospital.
'Held in perpetuity'
"There's a balance between making sure we've got a firm plan of spending on a timely basis versus getting all the money out of the door as fast as we can," he said.
"We try to avoid doing the latter."
Mr Outhwaite said the organisation had 192 individual funds and an umbrella charity to oversee how donated money was distributed between them.
He said about a third of the money in the charity account was held in perpetuity but the rest was available to the different funds.
He said: "There's a stated purpose for each fund and we try to ensure that purpose is adhered to so there's a link between the donation and the stated aim of that donation.
"Some funds are spending at a faster rate than others.
"But I think it's quite a positive thing to have these individual funds as opposed to having one big amorphous fund where people can't see what we're spending money on."