Morrisons supermarket plan rejected by Derby council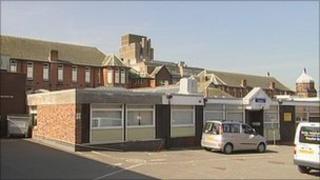 Plans to build a new supermarket on the site of the former Derbyshire Royal Infirmary have been blocked by Derby City Council.
The creation of the new Morrisons store was central to Derby Hospitals NHS Trust's proposals for selling off land on London Road.
The council's planning committee unanimously voted to defer a decision due to strong concerns about the store.
The trust has been invited to rethink the plans and resubmit.
The meeting, on Thursday night, heard the council's planning officers had found a few minor problems with the proposals but felt, on balance, it should go ahead.
But councillors said they were concerned the proposed supermarket would stretch the city centre further southwards.
'Unattractive shed'
It also emerged Westfield had put in a last-minute objection saying the plans would lead to a 40% drop in trade for the Sainsbury's next to the Eagle Market.
Philip Hickson, leader of Derby City Council and a member of the planning committee, described the proposed store as "an unattractive shed".
He said: "The hospital just want the cash and don't give a fig what the city centre looks like. All they're interested in is getting the money."
He added that he feared the hospital intended only to build the supermarket, and not necessarily the 400 houses included in the plan.
Members of the committee indicated that if a supermarket featured in further plans submitted by the trust, they would turn them down.
Sue James, chief executive at Derby Hospitals NHS Foundation Trust, said: "We are deeply disappointed with the planning committee's decision regarding the proposals for the former Derbyshire Royal Infirmary site.
"We are awaiting a full transcript of the discussions, and the reasons for the deferral, before we decide what our next steps will be."