Ashbourne to sing for the Archbishop of Canterbury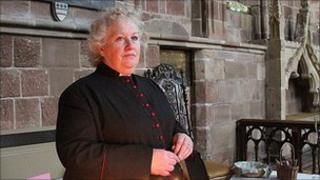 A Derbyshire church is organising the biggest choir in its history to welcome the Archbishop of Canterbury.
Some 500 singers will assemble for a special Evensong at St Oswald's in Ashbourne on on 24 September.
Choristers from across the diocese will perform under the baton of Peter Gould, Master of Music at Derby Cathedral.
It is hoped Dr Williams will join in, as well as rededicating the church organ, giving the sermon and launching the Bishop of Derby's Harvest Appeal.
For Reverend Pond the music is a key element.
"It's a celebration of our choral tradition. We'll raise the roof and open the doors, and hopefully you'll hear us in Derby," she said.
'Advice welcome'
So large is the choir that there will be limited space in St Oswald's for the congregation, and the event has had to be ticketed, with names being drawn from a hat.
The enterprise has been the focus of collaboration from Ashbourne businesses, the Methodist Church and Queen Elizabeth's Grammar School.
They hope to have "most bases covered", but admit that technical advice for filming the proceedings and help with the catering is still more than welcome.
The Archbishop arrives in the diocese on 23 September, and his schedule will take him first to the University of Derby followed by visits to Normanton, Pride Park and Chesterfield.