Bombardier: What happens next?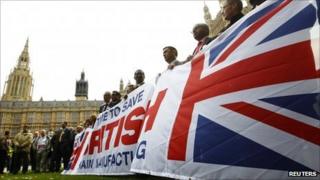 The Transport Secretary, Philip Hammond, has said he will not change his mind on the Thameslink contract, which went to Siemens instead of Derby-based Bombardier.
It will have been disappointing news for the delegation of workers, business leaders and politicians, who travelled to London on Wednesday to lobby the government over the future of the train maker.
So where does the campaign to save the Litchurch Lane factory go now?
The 90 Bombardier workers, who returned to the Midlands on the "Spirit of Derby" train they helped build, were not downhearted by their trip to Westminster.
But there is only so much further their campaign can go.
Public opinion seems to be on their side and several national newspapers are supporting Bombardier.
Derby City Council and trade unions including Unite are now threatening the government with a judicial review.
Yet it seems Philip Hammond will not change his mind without being forced to.
The apparent deadlock leaves Derby waiting for the answers to three questions which will determine Bombardier's future:
Will the Transport Select Committee, which met on Wednesday, choose to write a report into the way the £1.4bn Thameslink deal was handled? And if it does, will it be critical of the Department for Transport? A report which embarrasses the current government could force it to take a second look.
Will the National Audit Office (NAO) decide a full-scale investigation of the deal is needed? At the moment it is making preliminary inquiries but the government would appear unlikely to put pen to paper on a deal with Siemens if the NAO is yet to clear the deal.
Can campaigners come up with absolute proof that the government can change its mind on Thameslink without having to pay millions of pounds of compensation to Siemens? Ed Miliband has said telling the government that is the case is not enough - crystal-clear evidence needs to be found.
There is a chance none of these questions will be answered in time, however.
Bombardier is reviewing its UK operations and could report back as soon as October.
It is conceivable that the company will decide its lack of orders makes a manufacturing base in Britain unaffordable.
Ultimately, changes to the way trains are procured in the UK may only help a company which has already retreated to Germany.