Kerala Harvest Festival is celebrated in Derby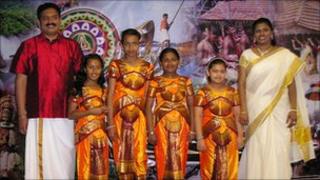 The festival of Onam is now part of Derby's celebratory calendar.
A key cultural event for people who come from Kerala in South West India, it involves elaborate decorations, dances, music, sports and an enormous banquet.
Traditionally served on banana leaves, the feast has to consist of at least 25 items.
This year's 10 day festival was held in Normanton's Hindu Temple, known as The Geeta Bhavan.
Praveen Damodhar, as a committee member of Derby's branch of the Malayalee Association, was one of the organisers of the events.
He believes few people in Britain know about Kerala and its culture, though he said there has been noticeable migration from that part of India for the past decade.
"In Derby we are a tiny community of some 120 families, who belong to all the religions: Christian, Muslim and Hindu," he said.
Those families and their guests made up this year's 300 or so Onam celebrants, determined to pass on both traditions and skills to their children.
Those skills include the ability to make the intricate carpets of flower petals that grace the temple for the duration, and to compete in the mandatory assortment of games and competitions.
In India the festivities would include a snake boat race. In Derby that translated to the rather less exotic tug-of-war.
Deliberately inclusive as it is, Onam has become yet another colourful element in Normanton's multi-cultural canvas.