Wildfire threat in Peak District, says Peak Park Authority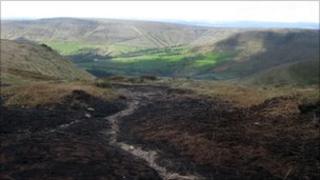 More wildfires could break out in the Peak District if summers get hotter, the Peak Park Authority has said.
The fires are caused by heat and human carelessness, and can damage wildlife, pollute drinking water supplies and disrupt roads.
A national conference is being held in Buxton, Derbyshire, to discuss ways of tackling and preventing them.
Chief ranger Sean Prendergast said the Peak District "needed safeguarding while we've got it".
The Met Office has predicted that climate change could result in wildfires happening more within the next 30 years.
'Pretty grim'
Mr Prendergast, from the Peak Park Authority, said: "For every degree of temperature that goes up we're going to need a 10% increase in rain but, in fact, we're going to get a 10% decrease.
"It's hard to explain to people when we've had a really wet summer how at risk the moorland areas of the Peak District are. The situation is pretty grim."
The fire service said it needed to work closely with other agencies such as the National Trust and the Peak National Park.
Buxton Fire Station manager Colin Winterbottom said: "The problem with wildfires is that they burn down into the peat so they don't actually go out by themselves.
"I had to walk for one and a half hours [on one occasion] just to get to the fire ground to assess its size. We did that for four days."
Delegates at Wildfire 2011 will discuss the latest techniques, best practice and research relating to the prevention and suppression of wildfire in the UK.