Mobile network checks cost Derbyshire Police thousands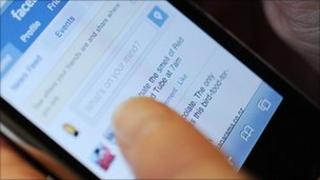 The chairman of Derbyshire's Police Federation has called for phone and internet firms to rethink how much they charge police to access their networks.
Derbyshire Police paid out almost £104,000 in the past financial year to check records during investigations.
The companies said they were only recovering costs and charges were agreed with police in advance.
But Insp Mark Pickard, who has led the federation since February, is calling for a more charitable approach.
"When you think about these companies, they are earning massive fortunes," he said.
"£100,000 to them isn't a lot of money but of course to Derbyshire it is. I think they should be looking at it.
"When they want to be part of the community and put their masts into communities, the least they could do actually is help out by giving this service for free."
Mobile phone and internet records have become increasingly central to police investigations over the past decade.
But phone companies and internet service providers said the cost of making information available to forces was "significant".
A spokesman for Orange and T Mobile, who merged last year, said: "We work closely with the police and employ a specialist team to ensure we are able to lawfully disclose data in relation to police investigations.
"We cost recover an agreed fee from the police depending on the nature of the enquiry. These fees only cover our costs and this is supported by legislation under the Regulation of Investigatory Powers Act."
Derbyshire Constabulary declined to comment saying it was a national police matter.
The Home Office said it was satisfied with its current guidance which requires companies to prove their charges are appropriate.