Long Eaton businessman says travellers 'destroying' sales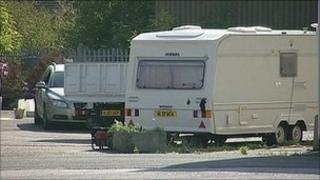 A Derbyshire store owner says his business is being ruined by travellers who have set up home in his car park.
Kieron Armstrong said takings at his Long Eaton shop had dropped dramatically since caravans first moved on to the site in June.
Mr Armstrong said there had been as many as 13 caravans in his 120-space car park.
A traveller spokeswoman said they did not believe their presence was affecting trade.
Mr Armstrong said: "It's destroyed the business.
"The police recommended we take them to court. But if we get an injunction they go but come back a month later. What's the point?"
Shop assistant Fay Meakin said: "We're down to about 70% of our normal shop. People don't want to shop here."
'No place to go'
Traveller Samantha Doherty said she did not think their presence was stopping people visiting Mr Armstrong's store.
"No, I don't think that's one bit right. He's very busy," she said.
She added the reason they were there was because councils were not offering suitable sites.
"They won't give us no place to go," Ms Doherty said.
A Derbyshire County Council spokesperson said: "There are four sites for travellers in Derbyshire.
"Three are owned by us and managed by other individuals and organisations on our behalf, and one is owned by a private individual."
Mr Armstrong said he has spent £7,000 on lockable gates and a CCTV system to try and stop the travellers getting back on to the car park when they temporarily left.
The store's CCTV recorded the locks being smashed on 15 September.
Ms Doherty said the gates were already open when they moved back on to the site.
Derbyshire Police said it had received several reports of travellers at Armstrong's Mill between 13 and 15 September.
The force said four men were arrested on suspicion of causing criminal damage and investigations were ongoing.