Derbyshire Peak District stone 'may be Neolithic sundial'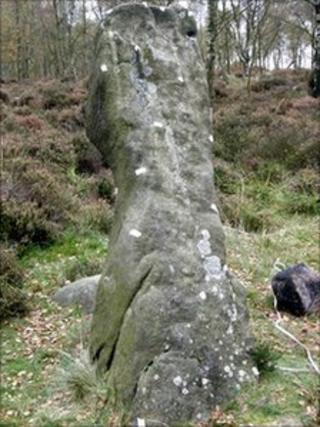 Experts have said a stone in Derbyshire could be a 4,000-year-old seasonal sundial from the Neolithic period.
Nottingham Trent University academics said people from the era could have used the single angular 2.2m (7.22ft) rock to determine the time of year.
The researchers said they were "not surprised" with their findings as rock art had already been found at Gardom's Edge, near Baslow in the Peak District.
The theory has been shared at a European conference in Portugal.
Dr Daniel Brown, the university's lecturer in astronomy and landscape history, presented the research at the European Society for Astronomy in Culture.
"This single standing stone gives us an idea of how ancient man perceived the skies and how ancient monuments and landscapes can reflect this," he said.
"This region has evidence of early settlements, such as rock art, an enclosure and round houses," Dr Brown added.
'Travelled in summer'
Senior lecturer Andy Alder said their theory was an important step forward.
"During the Neolithic period we know that people migrated, they travelled in the summer up to the upland pastures from the lowland dales," he said.
"Due to the angle and the position of the stone, which is pointing due south, it would have enabled people to tell what season it was - so it's a sundial, but it covers the seasonal periods."
The researchers said during the winter the slanted side would have been in permanent shadow, and during most of the summer it would only be illuminated during the morning and afternoon and shadowed during midday.
The slanted side would be illuminated during the entire day, however, during midsummer, the academics added.