Pride Park 'bums on seats' challenge succeeds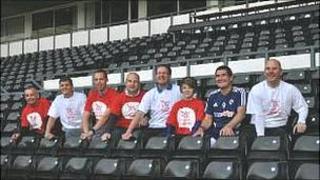 A Derby County fan and five friends have succeeded in sitting on all 33,597 seats at Pride Park in one night.
Gareth Griffiths said he was feeling "sore and bruised" after finishing the charity attempt in under four hours.
The bid was jeopardised when two people pulled out, but others - including the 36-year-old's brother Simon - stepped in to help at short notice.
And the challenge was given a boost when Rams manager Nigel Clough turned up to help sit on the first few seats.
Each of the six fundraisers sat on more than 5,000 seats - with a couple of other volunteers also playing a part.
Mr Griffiths said: "I got the idea from a friend who did it at the City of Manchester stadium.
'Good laugh'
"Basically the ground is split into two stands - the main one and a horseshoe shape. The main stand was hardest but we broke the back of that then flew round the horseshoe.
"Nigel Clough ended up coming down to do the first few seats with us."
The attempt began at 1815 BST on Friday and was completed by 2210 BST - several hours quicker than had been expected.
Mr Griffiths, from Ashbourne, added: "We tried various different methods - we tried doing a row each in the same block at the same time.
"Then we tried doing a block each but that didn't work as well because you need each other nearby for encouragement."
"We had a really good laugh in the end," he added.
So far, about £2,000 has been raised for the charities Sight Support Derbyshire and Action For Children.