Three brothers pass degrees at University of Derby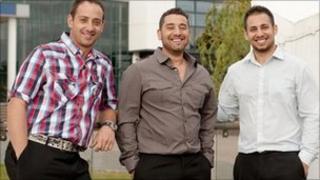 Three brothers who swapped jobs in the building trade to study at the University of Derby have all passed degree courses.
Joiners Carl, 33, and Darren Bennett, 28, both studied engineering while their brother Levi Buttigieg, 23, took chemical biology.
As well as completing their studies at the same time, the brothers all received the same 2:1 grade.
They will graduate at the University of Derby's awards ceremony in January.
Building trade
Darren Bennett, from Chaddesden, said: "We all went into the building trade straight from school, Carl and I as joiners and Levi as a plumber.
"I always felt I wanted to go back into studying at some point and then Levi began an Access to Higher Education Diploma at the university, before joining his degree," he said.
"That inspired Carl and I both to do a surveying course before beginning our degree courses as part-time students.
"I think that studying at the same time did help us. There was a bit of healthy competition and we encouraged each other to finish our courses.
"I wanted to get at least a 2:1 grade."
Darren and Carl now work as technical advisers at the university and Levi is a technician for a firm in Shardlow.
Prof Philip Plowden, university pro vice-chancellor, said: "The university is delighted to celebrate the brothers' successes.
"They have obtained outstanding results in their degrees, even though they had the additional challenge of continuing to work while they studied," he said.
"They provide a valuable demonstration of the way in which higher education can transform people's lives."