VC medal goes on display in Derby for first time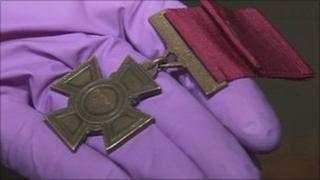 A war medal awarded to a soldier from a Derbyshire regiment more than 140 years ago has gone on public display for the first time at a county museum.
The Victoria Cross (VC) was awarded to Troop Sgt Maj David Rushe of the 9th Lancers during the Indian Mutiny.
But following his death in 1886 his medals were sold by his widow and were not recovered until 1959.
The set is now on display at Derby Museum, as part of the Soldiers' Story gallery.
Distinguished career
Sgt Maj David Rushe won his VC on 17 March 1858 at the recapture of Lucknow during the Indian Mutiny, when he and a comrade tackled a party of 10 mutineers, three of whom were killed by Sgt Maj Rushe.
This followed a distinguished career which covered more than a decade of fighting in India.
Sgt Maj Rushe's campaign medals for the 1st and 2nd Sikh Wars, the Indian Mutiny and his Good Conduct medal are also on display alongside his VC.
Robin Rushe, great grandson of Sgt Maj Rushe, said: "I am very relieved that the medals are in a safe place where they will be appreciated.
"We are looking forward to visiting the Derby Museum and Art Gallery again to see the new acquisition and hope to bring some younger members of the family to have a look."