Jia Ashton murder: David Simmonds' motive is a mystery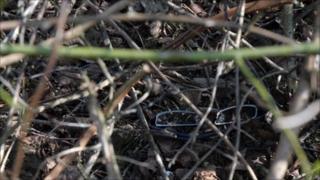 The hunt for Jia Ashton's killer was one of the biggest investigations ever carried out by Derbyshire police.
An eight-week search featuring hundreds of witness statements and thousands of lines of inquiry eventually led detectives to one man - David Simmonds.
Police still do not know what led the 21-year-old to carry out such a brutal attack on Mrs Ashton.
However they remain grateful for a huge community response which helped them track down their man.
Mrs Ashton was found dead in Sleetmoor woods in Somercotes on 13 March, three days after she had disappeared on her way home from work at the nearby Thorntons factory.
Row with husband
The 25-year-old's badly-beaten body had been carefully covered by logs and branches to hide it from view.
Initial suspicion fell on her husband Matthew. The pair had rowed the night before she disappeared and he had opted to stay at a hotel the following evening.
As a result he did not realise she was missing until more than 24 hours after she was attacked.
Police arrested Mr Ashton but he was released without charge after a search of the couple's house showed she had never returned home.
CCTV footage also placed him at the hotel at the time of his wife's disappearance.
Detectives began working on the assumption her killing was a random stranger attack - a far more difficult crime to investigate.
The discovery of several items belonging to Mrs Ashton not far from where her body had been found at least gave them something to work with.
Homeless theory
The items - including a broken mobile phone, her glasses, her handbag, an umbrella canopy and five buttons from her coat - contained fingerprint and forensic evidence which would prove vital later in the investigation.
Police appealed for information about anyone suspicious spotted near the woods on the day Mrs Ashton disappeared.
Days later they were to get the information they needed.
A couple who had been walking their dog in the woods on the day of the killing reported seeing an unkempt, possibly homeless man.
The pair said the man appeared on a path near to the spot where Mrs Ashton's body was found and then "shimmied away" back into the woods.
They helped detectives produce an artist's impression.
Other reports then emerged of a man matching that description being spotted acting strangely in the woods over the months leading up to Mrs Ashton's killing.
Working off the theory the killer could be homeless, police began collecting fingerprints and DNA from anyone registered as homeless in the Amber Valley area in the past year.
One of them was 21-year-old David Simmonds.
Fingerprint match
While having never lived rough, Simmonds had registered as homeless while sleeping on friends' sofas having moved out of his parents' home in Swanwick following a row.
Detectives took Simmonds' fingerprints and a DNA sample on 4 May and found they matched the prints found on the items collected near Mrs Ashton's body.
He was arrested on 5 May and charged with murder the following day.
Results from DNA testing also tied Simmonds to the murder but despite the overwhelming evidence building up against him, he still refused to take responsibility for his actions.
During questioning he initially denied ever having seen Mrs Ashton in the woods. He then changed his story to say it was an attempted robbery which had gone wrong.
However the sheer ferocity of the attack - Mrs Ashton's petite frame had been crushed by the 19st (120kg) unarmed man, rupturing an atrium in her heart - left police in no doubt he intended to kill her.
Now Simmonds has finally admitted murdering Mrs Ashton but is yet to explain why.
Police said he had no prior record, nor any known alcohol, drugs or mental health problems. They also said there was no evidence of a sexual motive.
Det Supt Terry Branson, who led the investigation, said: "The only person who knows why he did this is David Simmonds himself."