Fight to stop sale of Ripley Town Hall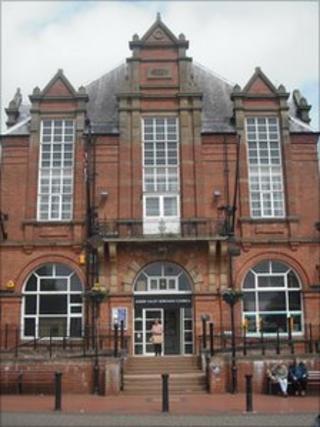 Campaigners have begun a fight to stop a council selling off a town hall in Derbyshire.
Ripley Town Hall was put up for sale by Amber Valley Borough Council in June.
The authority said selling the 130-year-old building and offices next door would help it save £2m over the next two years.
A petition with more than 1,200 signatures calls for ownership of the hall to be transferred to Ripley Town Council instead.
Ripley Town Council said it should be offered the building for free as it gave it to the borough council when the authority was created in the 1970s.
In a statement it said that if the town hall was sold then the police office, the registrar's office, the town council's offices, and the council chamber would have to be relocated, which would be "extremely costly and very problematic".
Steve Freeborn, leader of the town council, said: "The town hall is so important to Ripley. The people's wishes really should be supported by the borough."
An Amber Valley Borough Council spokesman said: "Borough council officers are currently in discussions with county council officers about them taking on part or all of the central headquarters.
"We are therefore looking at potential relocations, including premises in Heanor. No decision has yet been made."
The council said it was putting the 2.8-acre site on the market because the authority no longer needed such a large building.
The sale of the property will be discussed at a council meeting on Wednesday.