Debate on planned sale of Ripley Town Hall is put back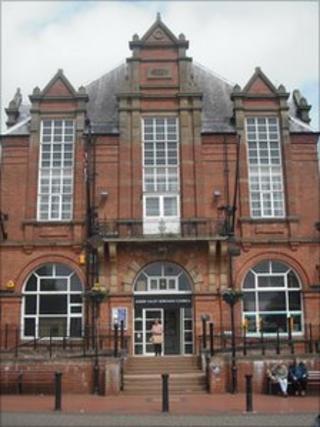 Councillors have voted to delay a debate about the proposed sale of Ripley Town Hall.
A 1,200-signature petition was handed in before the Amber Valley Borough Council meeting, calling for the hall to be returned to Ripley Town Council.
The borough council was given the 130-year-old building in the 1970s but plans to sell it to help save £2m over the next two years.
Councillors voted to defer a debate until they are closer to a decision.
'Something for nothing'
Steve Freeborn, leader of Ripley Town Council, said the borough council's decision not to hold a debate when dozens of local people had attended the meeting was "a cop out".
Stuart Bradford, leader of the borough council, said enough had already been said on the subject but there was no way the authority was "going to give away something for nothing".
He said the matter would instead be debated by the council at a meeting in November.
Earlier a borough council spokesman said Derbyshire County Council had shown interest in buying all or part of the 2.8-acre site.
A discussion about the proposed Ripley Gateway project, which would see new houses and a supermarket built on Nottingham Road, was also put back to November.