Jia Ashton murder: David Simmonds pleads guilty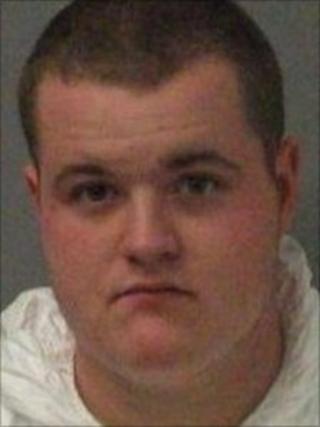 A man has admitted murdering a woman as she walked home from work through woodland in Derbyshire.
Jia Ashton, 25, went missing in March after leaving work at chocolate maker Thornton's headquarters in Somercotes in March.
Her body was discovered by a mountain rescue search dog in nearby Sleetmoor Woods three days later.
David Simmonds, 21, from Heanor, appeared at Nottingham Crown Court, where he pleaded guilty to murder.
Police believe Mrs Ashton, who was employed on a graduate scheme by Thorntons, was killed after walking into the woods along a path known locally as the "yellow brick road".
The economics graduate, from Somercotes, suffered a ferocious attack, said detectives, which caused the rupture of an atrium in her heart.
Her body was found hidden beneath logs and branches.
Simmonds, of Derby Road, was caught after a couple walking their dog saw a man of "possibly homeless appearance" in Sleetmoor Woods on the day Mrs Ashton disappeared.
Officers took fingerprints and DNA samples from people registered homeless in the area, one of whom was Simmonds.
'Despicable being'
There was no sexual element to the murder, said police, and Simmonds has yet to explain why he carried out the attack.
Det Supt Terry Branson, of Derbyshire Police, who led the murder inquiry, said Simmonds was "a habitual liar" who tried his best to cover up the killing.
"Without a doubt Mr Simmonds went to great lengths to hide the body to make sure that we never found Jia. He made every attempt to frustrate the subsequent police inquiry."
It is not known if injuries found on Simmonds' hands happened as a result of Mrs Ashton trying to fight him off.
Simmonds, at 6ft 2in and 19 stone, was more than three times the weight of his victim who was 4ft 11in and weighed six-and-a-half stone.
"The only person who knows what happened in that wood at the moment is David Simmonds and to what extent Jia fought back, it's only him that knows," Det Supt Branson said.
After the hearing, Mrs Ashton's husband Matthew said in a statement: "It has been six long and painful months since Jia was taken from us.
"Although Simmonds has finally admitted to the terrible crime he has committed, there can never be a sentence severe enough. He has taken someone so special and irreplaceable - and for what?
"At one time we thought that answers would help us come to terms with what he did to Jia. I now know that these answers may never come.
"I hope that justice will be done and that this despicable being will never be free to kill again."
Simmonds, who had originally denied the murder, is due to be sentenced on 7 October.