Three arrests in Derbyshire over beer and wine fraud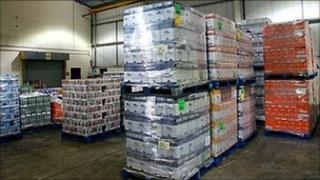 Three men have been arrested on suspicion of excise duty evasion and money laundering.
HM Revenue and Customs (HMRC) criminal investigators carried out raids on two domestic and two business premises in Derby and Burton-on-Trent on Thursday.
Officers seized beer, wine and spirits worth about £750,000 in excise duty, as well as cash, paperwork and computers.
The three men, aged between 32 and 40 and from Derby and Burton, have now been bailed.
The operation was connected to the seizure of fake UK duty paid labels in January, officials said.
In that raid on a Derby warehouse, 250 pallets of alcohol with a excise duty value of about £250,000 were confiscated, customs officials said.
HMRC criminal investigator Gary Lampon said: "Over £850 million is stolen from UK finances each year through alcohol smuggling. It's serious crime which we are determined to eradicate."