Royal Mail sorting office in Derby to close in 2014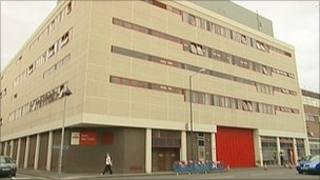 Royal Mail is to close its Derby sorting office with the loss of 89 jobs.
Sorting at the company's Midland Road building is being moved to Nottingham from 2014 to improve efficiency.
Under the plans, 107 staff from Derby will transfer to Nottingham but 89 jobs will be lost in the move.
Royal Mail said it hoped to avoid compulsory redundancies by redeploying staff and offering voluntary redundancy packages.
Spokesman Gary Milne said: "People who demonstrate reasonable flexibility and want to work in Royal Mail will continue to be able to do so."
The announcement follows discussions between the company and the Communication Workers Union (CWU).
The union's regional secretary Lee Barron said: "We've made sure that any of Royal Mail's changes which impact on people are done on a voluntary basis and that anyone who wants a job at the end of it has got the guarantee of a job.
"In this day and age we think that's a pretty good deal."
Royal Mail also announced that delivery offices in Ilkeston and Heanor, which were proposed to move to Derby, would now be remaining where they are.