Mobile phone company writes to boy who died in 1967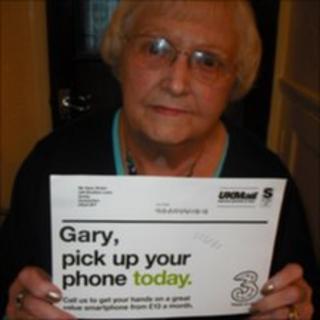 A Derbyshire woman said she was "distressed" after a mobile phone company wrote to her son who died 44 years ago when he was 13.
A promotional postcard for the firm Three was sent to the home of Muriel Green in Alvaston addressed to her son Gary who died of bone cancer in 1967.
She said the mistake brought back painful memories of her son's death.
The firm apologised for the error and said it would be speaking to the company which supplied the details.
The postcard said: "Gary, pick up your phone today. Call us to get your hands on a great value smartphone."
However the first mobile phone was not invented until 1973 - six years after Gary had died.
Mrs Green, 81, said: "I was very upset when I picked the card up. It brought it all back - you just go through everything again.
"Day by day, after 44 years, you don't think of it - only at anniversaries and at Christmas. This just brought everything back - I was very distressed."
A statement from Three said: "This should not have happened. We apologise for any distress that might have been caused by this.
"We are asking serious questions of the company that provided this data."