'No review' into Thameslink decision by watchdog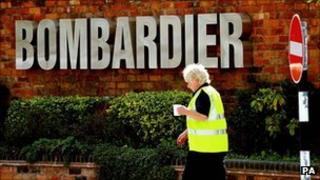 The National Audit Office (NAO) has decided against a full Value for Money review into the decision to deny Bombardier the Thameslink contract.
The Derby trainmaker is cutting 1,400 jobs after losing out to Siemens as the government's preferred bidder.
Bombardier supporters had hoped the NAO might find problems with the Department of Transport's procurement process.
However the NAO said there was nothing to indicate the government had not followed the correct rules.
Judicial review
In June German firm Siemens was named as the government's preferred bidder to build new train carriages for its Thameslink route.
The £6bn North-South cross-London Thameslink programme will require 1,200 new carriages.
Four Conservative MPs from Derbyshire who had joined a campaign calling on the government to reverse its decision were given the update by the NAO in a letter.
Pauline Latham, Heather Wheeler, Nigel Mills and Jessica Lee were told the NAO would keep abreast of the situation and had not ruled out an investigation in the future.
The decision means the campaign's hopes now rest on a possible Unite-led judicial review, being part-funded by Derby City Council.
Bombardier, which is still reviewing the future of its Litchurch Lane factory in Derby, said it would not be making any comment on the news.