Probe into two 'very unusual' sexual assaults in Derby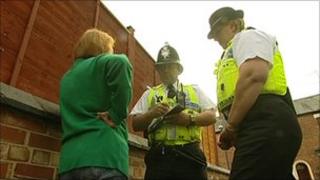 Police have described two sexual assaults in Derby which are believed to be linked as "very unusual".
Both victims were being accompanied by a parent when they were attacked on Monday evening. In one case the mother pulled the offender off her daughter.
The first incident happened on Gordon Road at about 19:20 BST and the second a few minutes later on Moore Street.
The suspect is described as white, in his mid-20s and about 5ft 6in (1.67m) tall. He wore a blue and white top.
In the first attack, a 24-year-old woman was walking along Gordon Road with her sister and mother when a man grabbed her and indecently exposed himself before walking off down Bainbrigge Street.
Police said minutes later, a 17-year-old girl was walking along Moore Street when a man pushed her to the ground and sexually assaulted her before running off along Bainbrigge Street.
She was also with her mother at the time of the attack.
Insp Richard Keene said: "It is concerning because it is very unusual.
"It was in a residential area that normally has quite a high footfall even at 7:30pm and both girls were accompanied."
Derbyshire police have been knocking on doors near where the attacks took place.
Officers have appealed for anyone who saw anything suspicious to call them.