Derbyshire opencast mine expansion approved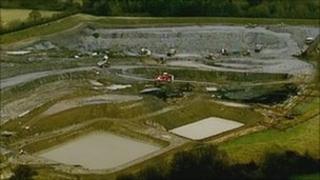 A major expansion of an opencast mine near a Derbyshire village has been approved.
UK Coal wants to extract an extra 750,000 tonnes of coal at the Lodge House mine, near Smalley.
The proposal, which will mean mining carries on at the site for another three-and-a-half years, has been approved by the county council.
Protesters said the plans would have a harmful affect on residents' quality of life.
Neil Paget, from the Smalley Action Group, said: "The impact we're having at the moment and have had for the past three years is dust, noise pollution and heavy HGV movements on a small village.
"It's totally unacceptable and we don't want more of the same."
County councillor Martyn Ford said: "The traffic movements will be the same and the dust and noise can be controlled by condition as they are now."
UK Coal has been extracting a million tonnes of coal from the site over the past four years.