Park bosses hope to keep Dovedale toilets open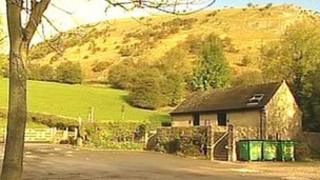 Park bosses have said they hope a solution can be found to enable them to keep public toilets open at a Derbyshire beauty spot.
The Peak District National Park Authority said there were "some very good suggestions" at a meeting into how the Dovedale toilets could remain open.
The authority, which faces budget cuts of £1.7m by 2015, said the toilets cost more than £17,000 a year to run.
It has said it can no longer afford to operate the facilities.
Park spokesman Keith Jennings said there has been "overwhelming support" not to close the toilets.
He said: "They're our most expensive toilets to run, they're very well used so we use a lot of water, electricity and it needs a lot of cleaning."
'Finding a solution'
After the "positive meeting", Mr Jennings said: "There are other organisations in the area that might be able to run the Dovedale toilets better than the authority can.
"There was an agreement to get together to sit down and thrash out to see whether we can come up with a solution to keeping these toilets open."
Representatives from the district council, parish council, the National Trust, local businesses and local people attended the meeting on Tuesday.
"The intention is not to close the toilets, but to find a solution that has a partnership of interested parties that can take them forward," Mr Jennings said.