Derbyshire runner Rory Coleman completes 700th marathon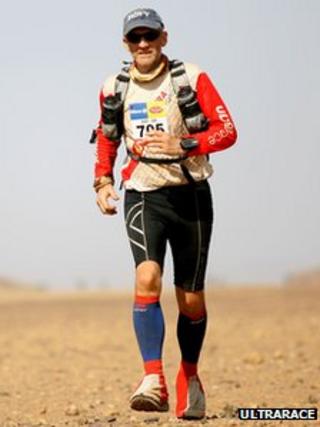 A man from Derbyshire has completed his 700th marathon at an event in Oxfordshire.
Rory Coleman, 49, from Breaston, started running 17 years ago after he decided to give up cigarettes and alcohol.
Mr Coleman said it had been an "amazing journey" and has set a new challenge of completing 1,000 marathons.
The runner finished the 26.8 mile Druid Challenge, along The Ridgeway National Trail, in five hours on Saturday.
Mr Coleman said finishing his 700th marathon had been "quite emotional".
World records
Mr Coleman has completed more than 21,000 miles (33,796km) in running events since 1994.
He said: "I was an overweight, 40-a-day cigarette smoking, alcoholic.
"I realised that I had to change the way I approached life and decided that it was time to stop looking for happiness in drink and cigarettes."
Mr Coleman has since run the London Marathon 13 times, New York City three times and the Robin Hood Marathon, in Nottingham, 14 times.
Mr Coleman has also completed the Marathon des Sables, known as the world's toughest foot race, eight times and set nine Guinness World Records for running on a treadmill.