Derby knife amnesty: More than 100 knives handed over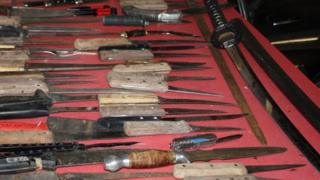 More than 100 knives have been handed into police during the first two weeks of an amnesty in Derby.
Daggers, bayonets and swords are among the items collected since Operation Jagger began on 1 November.
The initiative is being supported by Derby County Football Club and runs until 1 December.
The amnesty has been organised by Operation Redshank, a specialist police team set up to tackle gang crime in the city.
Details of where the knives can be handed in have been posted on Facebook.
Det Sgt Jonathan Smith, from Operation Redshank, said: "We have written letters to all gang members we have previously encountered, telling them they have the chance to hand in any knives they may have."
Knife bins are available at St Mary's Wharf, Cotton Lane and the Market Place police stations.
More than 200 knives were handed over during the previous amnesty in 2009.