Chemical alert prompts Derby homes evacuation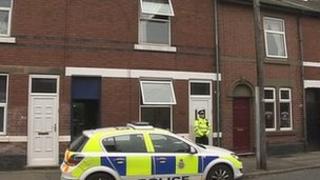 Homes in part of Derby were evacuated after a man was overcome by fumes and taken to hospital.
Emergency services were called to a property in Brighton Road, Alvaston, just before 22:00 GMT on Tuesday where a man was found unconscious.
Police said chemicals had been mixed and produced a gas but added that the incident was not terrorist related.
The man is being treated in an intensive care unit. Residents returned to their homes before midnight.
Inquiries are continuing into the circumstances of the man's condition and the chemicals involved, officers said.