Ashbourne Town Hall sale 'may be an option'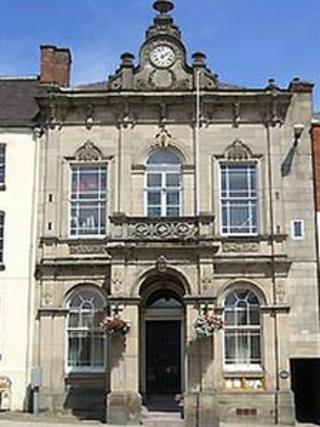 A Derbyshire town hall may be put up for sale as part of a council's cost-cutting plans.
Ashbourne Town Hall requires up to £40,000 of repairs and is underused, the town council said.
The Victorian Grade-II listed building is currently used by the town clerk and registrar, and its ballroom by various sports and exercise groups.
Councillor Alan Hodkinson said all options for the building had to be considered.
"We are going to be looking for other ideas to maintain it and keep it as long as we can. However, we have to be serious and look at the sale of it," he said.
"We've had a new sports hall in Ashbourne so we've got competition. People tend to go to modern facilities."
More than 1,000 people signed a petition against the proposed sale of Ripley Town Hall and Mr Hodkinson said there may well be similar opposition to a sale in Ashbourne.
"I think we can generate enough interest to use it for other facilities. The sale should be our last option," he said.