Cannabis arrests over Breaston factory fire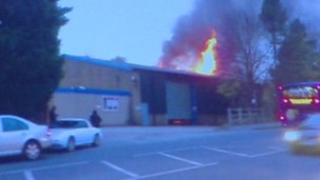 Three men have been arrested after suspected cannabis growing equipment was found after a factory fire in Derbyshire.
The blaze on Draycott Road, Breaston, began at about 16:00 GMT on Wednesday and took fire crews several hours to put out.
Two suspects were arrested shortly after the fire started and the third man was detained later.
All are being questioned on suspicion of production of cannabis.
A joint police and fire service investigation to determine the cause of the blaze is continuing.