South Derbyshire solar panel project to be scrapped by council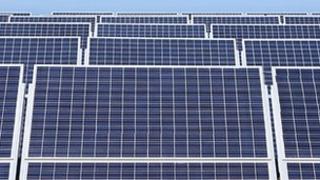 A £1m project to fit solar panels to 150 homes in South Derbyshire is set to be abandoned by the district council.
In October, the authority approved the scheme to install photovoltaic panels on the council properties next year.
It planned to pay off the £1m loan required for the project by selling surplus energy back to the National Grid through the Feed in Tariff (FiT).
However, it said a newly-announced cut in the government-backed tariff had rendered the project "uneconomical".
'Dramatic reduction'
Bob Wheeler, leader of South Derbyshire District Council, said the government's decision to bring forward a reduction in FiT payments from April 2012 to December meant the panels would only recoup 16.8p per kilowatt instead of 43.3p.
He said: "The rules have changed so that unless you have your scheme completed by early December, which we certainly couldn't have done, the rate would be reduced to not much more than a third.
"It's a dramatic reduction. The council was going to borrow £1m so the scheme had to be attractive not just in terms of getting an income but to cover the cost of the loan as well."
The project is expected to be officially cancelled at a council meeting next week, although the authority said it might revisit the plans if the FiT is reviewed in the future.